I am sure by this point many of you have noticed several new signs in the fairways around
the golf course. I want to first remind everyone that these signs, as with all other signage
around the golf course and driving range, are NOT suggestions. These signs are a very
simple set of directions that are to be followed at all times. If you need an exception to
these rules for any legitimate reason, please consult either The Golf Shop or Board Member
Mike Flisak to obtain special exemption.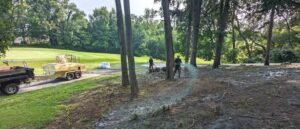 What is the intent of these signs? The cart signs in the fairways are there to tell you how far
your carts are allowed to advance towards the green. Most of the signs are very close to
where the approach starts. Carts should never travel beyond these signs or the approach.
Never. Anywhere. Not in the rough, not around the bunkers, not behind the greens.
Example: As you play Hole 1, you hit drive down the fairway. Your next shot lands pin high
but left of the green in the rough. The cart signs in that fairway point to the right, towards
the Hole 2 Tee. In respect of the signage and the golf course, you drive your cart off the
fairway, park on or near the cart path that is on the way to 2 Tee, take your wedge and
putter with you and walk over to your ball. That's how it works on every hole. You DO NOT
drive your cart up the left rough to where your ball is and then back around again. That is
the exact behavior these signs are intended to prevent. Your cart should remain on the cart
path at all times on all Par 3's.
Simply put, there should be no cart traffic around the greens ever. Respecting this rule will
result in significantly better green-side conditions, which will thus be more fair and more
enjoyable to play. I promise this will not slow down play. Play ready golf. Play the
appropriate tees. Park your carts in appropriate places. Thanks!
Enjoy Our Beautiful Course,
Matt Wagoner, Grounds Superintendent